Visiting "The Friendly Isle"
A small, uncrowded island in the San Juan archipelago, Lopez Island prides itself in its friendly reception to visitors.  Locals automatically wave when driving by.  The largest tourist attraction and lodging place is The Lopez Islander Resort, a mix of hotel rooms, vacation homes, RV parking and camping spaces, along with a marina for boats of all sizes.  The resort's Tiki Lounge offers live music, their restaurant has an array of casual and fine dining options, their banquet and meeting spaces host weddings and company events.  
Staying at the Islander Resort is a perfect place to begin your exploration of the island, the water and nearby islands.  The staff at the Islander is eager to assist you in arranging your activities. Call ahead, make reservations, and we will help you with your itinerary. Park at the Anacortes ferry landing and we will shuttle you to and from the ferry on Lopez Island.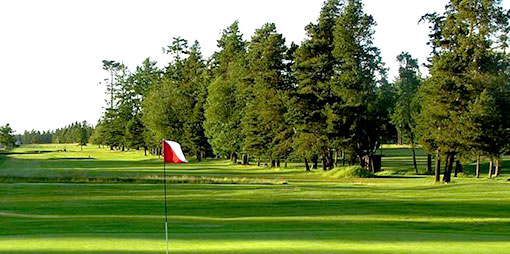 The 9-hole Lopez Island Golf Club welcomes the public when member events aren't scheduled.  A 20-minute walk or a short car ride from the Islander Resort.  Visit the Lopez Island Golf Club website for hours & fees.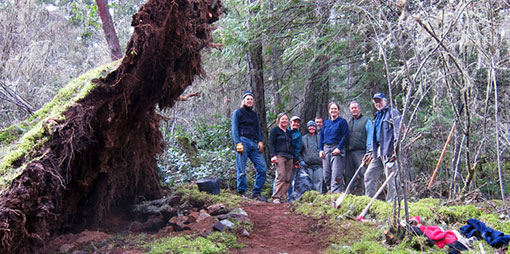 From remote beaches to scenic hilltop trails, the island is home to many parks and public lands for all ages and abilities.  Lopez Island has more county parks than any other San Juan Island with some great hiking trails.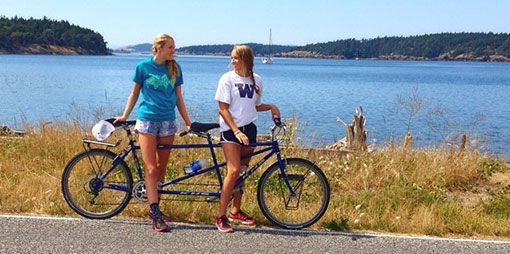 The island is home to the famous annual "Tour de Lopez."  This popular event attracts bicyclists from all over the Northwest.  As the "flattest" of the San Juan Islands, with 33 miles of bike routes, it's a favorite.  View Lopez Map and mileage of best bike loops.  Bikes may be rented next to the Lopez Islander Resort at the Lopez Bicycle Works, San Juan's oldest bike shop.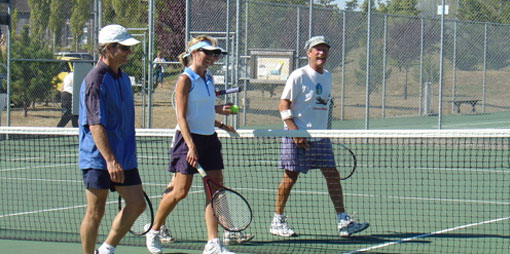 Lopez Island Community Tennis Courts are located at Lopez School and are available to everyone. The courts are owned and maintained and are solely supported by contributions through membership in LICTA. Visit the website at www.licta.org.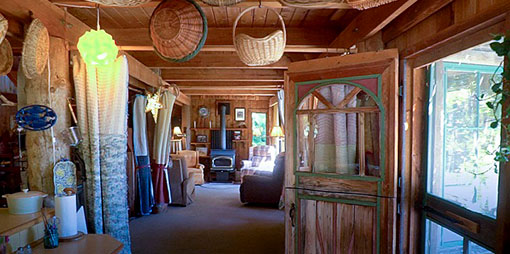 Lopez's natural beauty and quality of life have attracted a variety of residents – artists, craftspeople, entrepreneurs, musicians, farmers, fishermen and nature lovers. Lopez Village, 4 miles from the ferry landing, offers quaint cafes and restaurants, a bookstore, galleries, an historical museum, library, variety of shops and galleries, coffee shops, a bakery, and restaurants, as well as a fully stocked grocery store, pharmacy, and organic grocery.
Click here to view a printable Lopez Map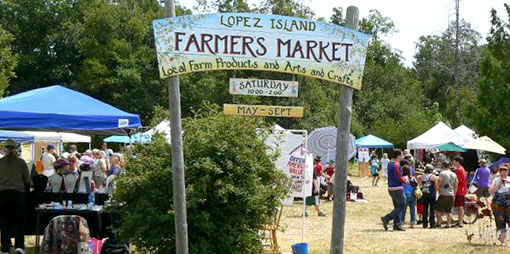 Open Saturdays 10 am – 2 pm mid-May through September, in Lopez Village next to the Community Center, find Island-grown produce, flowers and locally produced jams, fresh fudge, chutneys, pickles, seafood, and natural grass-fed meats. Scandinavian farmers arrived here in the 1850s, drawn by the island's gentle topography, and Lopez Island farms today raise an eclectic range of products, from sheep to llamas, wine grapes to apples, pears to kiwis.  The Market also features a wide variety of arts and crafts items: jewelry, soaps, healing oils & salves, glass art, textiles, art prints, photography, furniture, metal works, etc., all by local farmers and artisans.  For more information, visit www.lopezfarmersmarket.com
A visit to the Lopez Historical Society & Museum provides an overview of the rich and varied past of Lopez Island. The relatively flat landscape, abundant fishing, mild weather and fertile land was a draw for coastal tribes for thousands of years, with the first non-Native settler arriving around 1850.
The Museum maintains a huge photo and document archive, where you can search for long-lost relatives or vintage images of this fascinating island. Exhibits include permanent First Islanders and Natural History displays, as well as farming, fishing, place name origins and other island communities.   The museum is open noon to 4:00 p.m., Wednesday through Sunday, from May through September, or by appointment throughout the year.
A few miles south on Fisherman Bay Road find the 1887-built Center Church and the pioneer Union Cemetery with vistas across rolling farmland.
Boats of all sizes visit Lopez Island, with a large moorage at the Islander Resort.  Rent kayaks or a skiff, or charter a power or sail boat.  Sea life abounds in this part of the world and a trip on the water may lead to sightings of resident whales, seals, birds from Bald Eagles to Herons, porpoises, otters and much more.